Monday, August 20, 2007 at 7:30PM
Mrs. G.
Both Mrs. G's kids really liked the True Book geography series. Mrs. G. bought them all and has packed then up to save for her grandchildren or change-0f-life baby. She never wants to part with them.
These books are full of good information, but not too overwhelming like many geography books for children can be. The pages aren't too busy...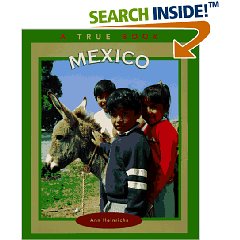 and the pictures are gorgeous.
Mrs. G's kids would read one every couple of weeks, and they would subsidize and enrich the information by studying maps or watching a related movie or documentary. They never passed up an opportunity to cook at least dish from each country's cuisine. The G's did a lot of schooling in the kitchen. Actually, they still do.
4 Comments
| |
Tweet
Email Article
|
tagged
Homeschool